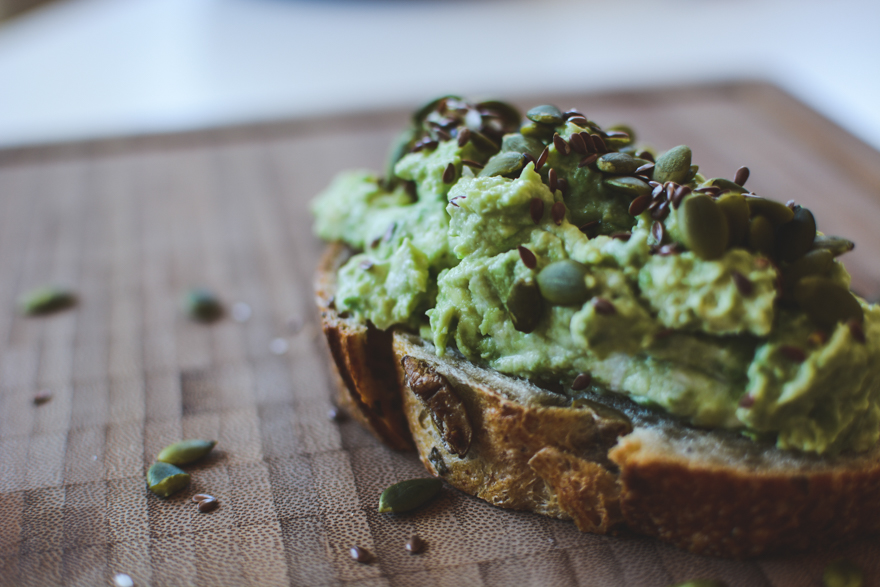 Sweet mother of god. This. Yes. 
This magical, creamy, delicious, luscious, and sensational recipe needs to be in your life. Like, yesterday. (The excessive use of adjectives was totally necessary. I swear.)
My Skinny Belle Avocado + Goat Cheese Toast is one of my staple meals, for breakfast, lunch, OR dinner. That's right. It covers all three meals of the day. So if you are feeling like a bad b, you could totally crush this for every meal of the day. Or in my case, if you are just too lazy to come up something different to eat lol. I may or may not have done that one or twice in my day. (Ok three times…. jeeze.) 
This recipe will take you about 1 minute to make, and even less time to inhale (with no shame) as you give little to no attempt at eating it in any sort of slow and controlled manner. At least thats what I do haha. TMI? Nah, we are past that here. Real-talk only. hehe 🙂
I love quick recipes for busy women, which is why I knew I had to share this one with you all today. You are my people. My goal-crushing, slightly foul-mouthed (at least I hope you are otherwise you are probably mortified by me haha), fashionable, fit, and beautiful people. So this is why I love to share recipes like this with you. We are important people, with things to do and places to see. Aint nobody got time to be slaving away in the kitchen for hours. All you need to know is how to make simple, clean, and delicious foods that are efficient. And that my friends, is where I come in.
So, what's in my Avocado + Goat Cheese Toast?
1 soft avocado

2 heaping tbsp of plain goat cheese (yaaaaaaaassss)

Juice of 1/2 a lemon

Pinch of sea salt

1 tsp flax seeds

2 tbsp pepitas

Your favourite bread (I have an abnormal obsession with Terra Breads Green Olive Loaf)
Alright so like I said, super duper simple recipe.
Pit your avocado and scoop that beautiful green and creamy inside into a bowl. Add your goat cheese, lemon, and salt. Mix everything together, but don't completely blend it smooth. Just mix it enough so the goat cheese "disappears" into the avocado. It tastes way better if the avocado isn't completely smooth. You want some good sized pieces of avocado to stay together in there.  
Now, cut a nice thick slice of your favourite bread and pop that bad boy in the toaster. Lightly toast it so that it's a little golden brown but not crisp. We don't want any biscuits around here. Once the bread is ready, put a very generous amount of your Avocado + Goat Cheese spread on top. Heaps and heaps is just the right amount. 😉 Top this with as much flax and pepitas as you like! 
And there you have it! A delicious meal or snack (if eaten in a smaller and more responsible portion size haha) for any time of the day. This recipe usually keeps me full for a really long time because of all the healthy fats in the avocado and richness of the goat cheese. 
Okay going to go gobble this down. Because YUM. Will you guys be making this recipe anytime soon?? Comment below!
x,